Conference 'Narrating and Constructing the Beach'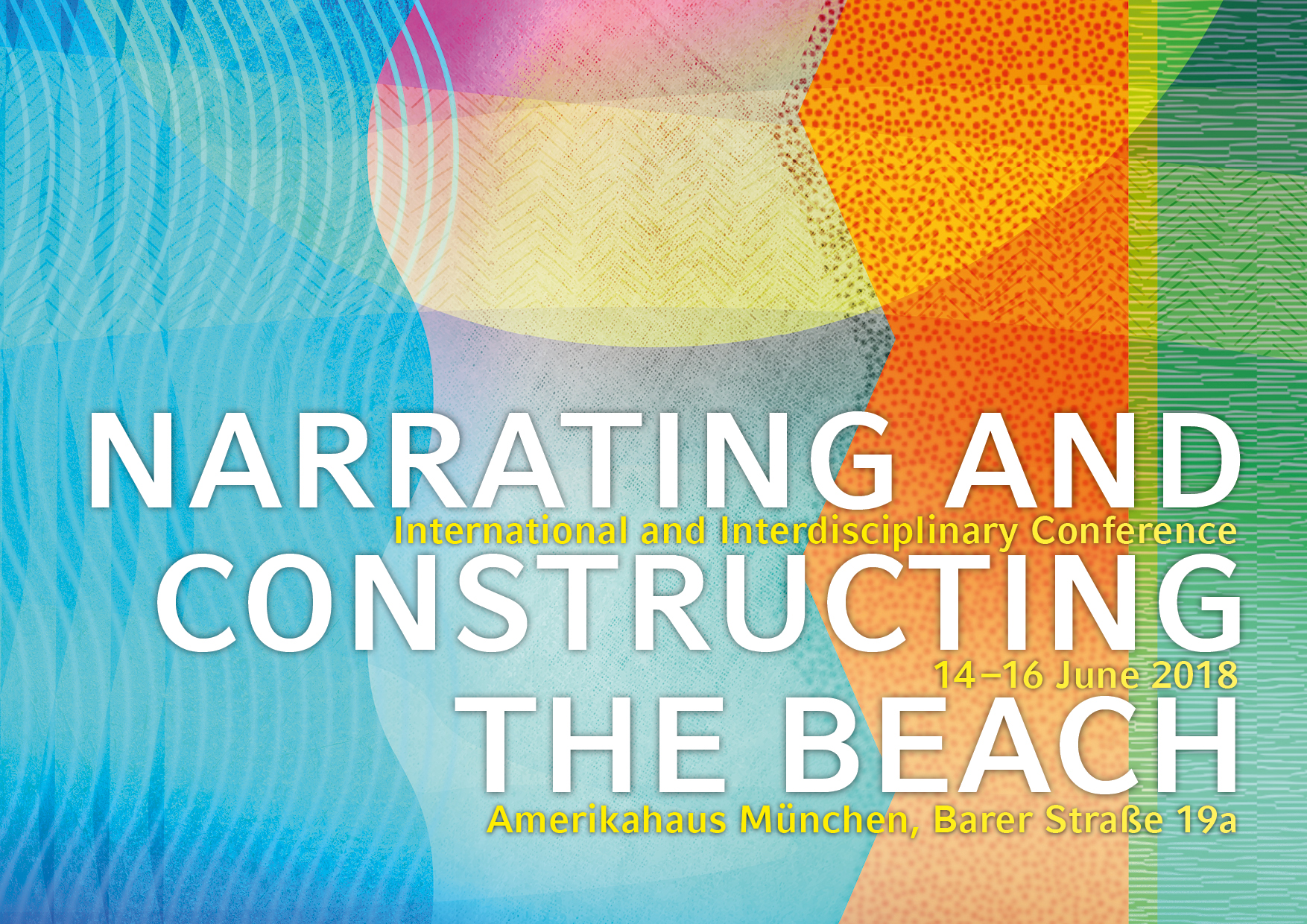 June 14 - 16, 2018, Amerikahaus Munich

The beach confronts us with crucial issues of our times: migration, postcolonial relations and mass tourism, climate change and pollution as well as gender and burkini swimwear controversies are among the numerous conflicts, discourses, and practices that manifest within this liminal zone and that find their focal point there. The international and interdisciplinary conference examines how the experience of the beach and its complex imaginaries are constructed through art, society, and culture and goes on to ask if and how 'the beach' shapes poetics and aesthetics. It aims at a systematic analysis of the global varieties of the beach, viewed as a (border) phenomenon in its own right, at once in historical depth and in relation to contemporary debates.
The conference will take place at the Amerikahaus Munich:
Barer Str. 19a, 80333 Munich
ÖPNV: Ubahn Königsplatz / Tram Karolinenplatz
(How to reach the Amerikahaus)
Program & Keynotes
The conference Narrating and Constructing the Beach will take place at Amerikahaus Munich from June 14 - 16, 2018.
To download the program as PDF, please click here.
KEYNOTES
Thursday, June 14, 2018, 7 PM (Amerikahaus) - please register here!
Michael Taussig, Professor for Anthropology, Columbia University:
The Disappearance of the Sea and its Phantasmatic Return
Friday, June 15, 2018, 9:30 AM (Amerikahaus)
Virginia Richter, Professor for Modern English Literature, University of Bern:
Stranded. The Beach as Ultimate Destination
PROGRAM
Thursday, 14 June 2018
9:30 Conference Introduction
10:00 Barbara Vinken (Munich): Stoff und Strand: Weniger ist mehr?
10:45 Coffee Break
11:15 Anna Maria Mullally (Dublin): Taking the Plunge: Irish Women, the Beach and Emancipation (1870–1936)
12:00 Carol Bunch Davis (Galveston): Building a Black Sense of Place: Galveston's African American Beaches and Lifeguards 1930–1970
12:45 Lunch Break
14:30 Jeannot Moukouri Ekobe (Munich): Raum der Machtlosigkeit, Ort der Übergangslosigkeit: Der Strand als Abweichungsheterotopie in der Literatur von 'Afropäern'
15:15 Ursula Kluwick (Bern): Bodies Arriving on the Beach
16:00 Coffee Break
16:30 Nadja Grasselli / Federico Robol (Leipzig): S h o r e l i n e s & S p a c e s (Reading & Sounds)
16:45 Florian Auerochs (Vechta): Müll/spill. Litorale 'Petro-Topien' in der Umweltfotografie
17:30 On Barak (Tel Aviv / Berlin): On Heat: Cultural Vibrancy and Environmental Crisis in the Middle Eastern Beach
18:15 Coffee Break
19:00 Keynote: Michael T. Taussig (New York): The Disappearance of the Sea and its Phantasmatic Return
We ask you to please register for the keynote lecture by Michael Taussig via this link: www.tinyurl.com/TheSea-Amerikahaus
Reception
Friday, 15 June 2018
9:30 Keynote: Virginia Richter (Bern): Stranded. The Beach as Ultimate Destination
11:00 Coffee Break
11:30 Carmen Ulrich (Wuppertal): Strandbekanntschaften in Georg Forsters Reise um die Welt und das europäische Projekt 'Zivilisation'
12:15 Robert Bauernfeind (Augsburg): Der Strand als Bühne der Wunder. Das exotische Litoral in der flämischen Malerei des 17. Jahrhunderts
13:00 Lunch Break
14:45 Konstantin Butz (Cologne): Surfing the Asphalted Beach: Maritime Voyages through Spaces of American Concrete
15:30 Dietrich Erben (Munich): Spuren und Bauten. Zur gebauten Ökologie des Strandes
16:15 Coffee Break
16:45 Mark Olival-Bartley (Munich): The Prelude of Oneawa (Poetry Reading)
17:00 Roxanne Phillips (Munich): Time and Tide again. Permeable Spaces and Sensory Perceptions of the Beach in Theodor Storm's Aquis submersus and David E. Kelley's Big Little Lies
17:45 Christian Begemann (Munich): Stimmen über der Tiefe, gärender Schlamm, Wasserleichen: Strandzonen als Räume 'transzendentaler Obdachlosigkeit' bei Theodor Storm
Saturday, 16 June 2018
9:30 Myrto Stenou (Athens): Constructed Heterotopias by the Sea
10:15 Coffee Break
10:30 Désirée Mangard / Miriam Strieder (Innsbruck): Wechselnde Gezeiten: Der Strand als Schauplatz für Wendepunkte in Heldendichtung und höfischer Literatur des Mittelalters
11:15 Thérèse De Raedt (Salt Lake City): Figuring the Intertidal Zones of Senegalese Beaches
12:00 Coffee Break
12:15 Jack Parlett (Cambridge): Sex on the Beach: Gay Bodies on '70s Fire Island
13:00 Alberto Napoli (Bern): 'Stile Balneare': Narrating Summer on the Beach in Italian Popular Songs, 1960s–1980s
13:45 Concluding Discussion
Travel & Accommodation
Information about the public transport system MVG in Munich can be found here: https://www.mvg.de/dienste/verbindungen.html
We would like to suggest two options for your accommodation during the conference: the hotel Carlton Astoria and Das Hotel.
You can reach both hotels from the airport in approx. 45 mins. by taking the S8 (direction "Herrsching") or the S1 (direction "Ostbahnhof"), then changing at "Marienplatz" into the U3 (direction "Moosach") or U6 (direction "Garching-Forschungszentrum") and exiting at the station "Universität".
If you are arriving from Munich central station / Hauptbahnhof, take the U2 (direction "Messestadt Ost") or U1 (direction "Mangfallplatz"), change at "Marienplatz" into the U3 (direction "Moosach") or U6 (direction "Garching-Forschungszentrum") and exit at the station "Universität".
1) Carlton Astoria (please contact the hotel directly for booking)
Fürstenstraße 12, 80333 München
Service@Carlton-Astoria.de
Tel: +49 (0)89 / 38 39 63 – 0
2) Das Hotel (please contact the hotel directly for booking)
Türkenstraße 35, 80799 München
info@das-hotel-in-muenchen.de
Tel: +49 (0)89 / 288 140 – 0
3) Munich has plenty of options for other hotels which might, however, be located at a bit of a distance from the Amerikahaus. The public transport system (Tram, Bus, U-Bahn, S-Bahn) is fast and reliable though, so you should be able to reach the conference venue easily from anywhere.
Call for Papers
The beach has recently become the site of important transformations: understood in the context of mass tourism for many years, nowadays we perceive the beach as bearing witness to the arrival of refugees, to pollution and climate change (e.g. tsunamis, rising sea levels), and to a growing number of sociocultural conflicts (e.g. over dress codes as in the case of burkini / nudist debates). As an area of unregulated movement as well as an institutional / institutionalized border, the beach receives growing media interest, but still remains at the periphery of maritime studies in academia. To do justice to the complex spatial concepts, dynamics, practices, and aesthetics of the beach, the international conference Narrating and Constructing the Beach views it as a (border) phenomenon in its own right and sets out to analyze it systematically and historically.
The (European) »invention of the beach«, which Alain Corbin situates approximately in the 18th century, is connected to a myriad of discourses and practices, which crystallize at, and are projected onto, the beach. In this respect, the conference will trace the manifold, changing, and at times competing representations and experiences of the beach in artwork, culture, and society as well as the many cultural imaginaries of the beach in their global and historical diversity. One focal point will concern the techniques employed to narrate, construct and reshape ›the beach‹: It is our cultural, artistic, and perceptual practices that produce the beach as an ever changing aesthetic, sociocultural, political, historical, and also geographic space. As such, the beach is at once liminal and multiple, determined by the juxtaposition of land, ocean, and sky as well as the blurring of the lines that separate them. It can turn from a representational space to a living space, and is at times perceived as a non-place or a heterotopy.
From differing and decidedly interdisciplinary research perspectives, the conference also inquires into how ways of experiencing the beach interact with sociocultural body practices and markers of difference (such as gender, ethnicity, nationality, religion, class, age, dis/ability, etc.): locals and travelers alike can perceive the beach as a space of encounter with the – erotic or dangerous – other, leading to (transitory) loss or vehement demarcation of the self. Contributing practices include Grand Tours, medical / health retreats, beach pastimes (swimming, promenading, building sand castles, collecting seashells as well as flotsam and jetsam), (mass-)touristic colonization, gender specific productions of subspaces (e.g. through towels, gazes), or the artificial incorporation of beaches into cities. Contributions could investigate these and other aspects from the point of view of changing cultural, medial, or aesthetic forms.
But even when not thinking of such sociocultural ties, the beach remains a fluid and a non-localizable space which constitutes itself mainly via relations: for example, it is dependent on, yet also autonomous from, the sea and water, the harbor, urban structures, and other forms of the shore and the coast. The beach can be read in analogy or opposition to the harbor when representing the clandestine or the disturbances and disruptions in global systems of institutionalized trade currents and travel itineraries. To reach the beach might, thus, result from going astray, evading the harbor, or missing it – from being stranded. By analyzing the establishment of sanatoriums, the regulation of trade, tourism or migration, presentations could detail how processes of order and institutionalization remain (in)visible, how they (temporarily) establish structures, or even how they are in vain.
While the conference is interested in how these liminal and multiple border spaces are narrated and constructed by sociocultural practices, it also investigates how beaches are generated by literature, music, theater, performance, film, photography, and art as (aesthetic) spaces and in which ways ›the beach‹ shapes and transforms both poetics and aesthetics.
We thus invite contributions from all fields interested in cultural studies and pertaining to all epochs and places around the globe to analyze beaches as cultural artifacts or in cultural artifacts. Researchers can take into account the connections and interactions between the discursive conditions of the beach, its aesthetic dimensions, and its historical and cultural practices.
Abstracts in English or German (300-500 words) for a 30-minute presentation and subsequent 15-minute discussion can be submitted with a short academic C.V. by January 14, 2018, to the following email address: beach.conference@lmu.de. We especially encourage English-language submissions. Papers should not have been previously published as we plan to publish the conference proceedings. Please indicate whether you might be comfortable speaking in English and/or German so we can find a balance between both conference languages.
Contact
Organizing team
Stefan Brückl, Dominik Pensel, Roxanne Phillips, Katharina Simon, Ines Ghalleb, Florian Telsnig, Tamara Fröhler, Carina Breidenbach, Jeannot Moukouri Ekobe & Martin Wittmann
Email: beach.conference@lmu.de
Organizer
Graduate School Language & Literature – Class of Literature
Ludwig-Maximilians-University Munich, Faculty of Languages and Literatures

In cooperation with the Bavarian American Academy and the Amerikahaus Munich
Sponsored by the GraduateCenterLMU and Brillen Schneider

Poster and flyer design: Barbara Biebl / www.einwerk.de
Downloads